ASME B18.2.3.3M Metric Heavy Hex Screws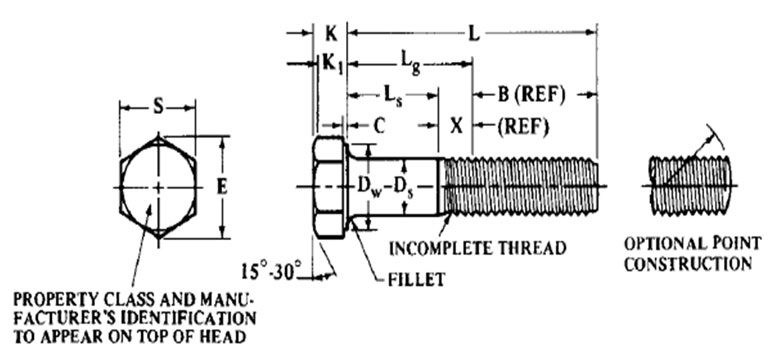 Dimensions of Metric Heavy Hex Screws
Nominal Screw Diameter, D, and Thread Pitch
Body Diameter Ds,
Width Across Flats, S
Width Across Corners, E
Head Height, K
Wrenching Height, K1
Washer Face Thickness, C
Washer Face Diameter, Dw
Max
Min
Max
Min
Max
Min
Max
Min
Min
Max
Min
Max
M12 x 1.75
12.00
11.73
21.00
20.67
24.25
23.35
7.76
7.24
5.2
0.6
0.3
19.6
M14 x 2
14.00
13.73
24.00
23.67
27.71
26.75
9.09
8.51
6.2
0.6
0.3
22.5
M16 x 2
16.00
15.73
27.00
26.67
31.18
30.14
10.32
9.68
7.0
0.8
0.4
25.3
M20 x 2.5
20.00
19.67
34.00
33.00
39.26
37.29
12.88
12.12
8.8
0.8
0.4
31.4
M24 x 3
24.00
23.67
41.00
40.00
47.34
45.20
15.44
14.56
10.5
0.8
0.4
38.0
M30 x 3.5
30.00
29.67
50.00
49.00
57.74
55.37
19.48
17.92
13.1
0.8
0.4
46.6
M36 x 4
36.00
35.61
60.00
58.80
69.28
66.44
23.38
21.72
15.8
0.8
0.4
55.9
All dimensions are in millimeters.
Basic thread lengths, B, are the same as given in table 12.
Transition Thread length X, includes the length of incomplete threads and tolerances on grip gaging length and body length. It is intended for calculation puposes
For additional manufacturing and acceptance specifications, reference should be made to the standard.